About SBPD

Leadership
Leadership
Command Staff
Chief of Police Scott Ruszkowski
A US Navy Veteran, Chief Ruszkowski joined SBPD in 1988. His brother, father, and grandfather were South Bend Police officers as well. In addition to the Navy, before joining SBPD Chief Ruszkowski worked at the South Bend Streets Department and, as a student at LaSalle High School, at Martin's Supermarkets. He became the 62nd Police Chief of SBPD on October 1, 2015.  
Chief Ruszkowski has an outstanding, patient wife, four sons, and two grandchildren. Three of his boys attend South Bend schools. His number one priority is people: "We're here for the people and because of the people. Our want is to do no harm. Our belief is that our community is our family."

Operations Division Chief Dan Skibins
A South Bend native, Operations Division Chief (D/C) Skibins joined the SBPD in 1998 and graduated the Indiana Law Enforcement Academy the same year.  In his role, he is responsible for the Operations Division (Internal Affairs/Office of Professional Standards, Recruitment and Training, Strategic Focus and Strategic Intel Units, Public Information and Traffic/Special Events), administration, and strategic planning.  D/C Skibins is a United States Marine Corp Reserves Veteran.  He attended Indiana University South Bend and graduated with an Associates Degree of Arts in General Studies. He is back at IUSB and is currently working to complete his bachelor's degree. Dan and his wife (Tracy) have two daughters Mia and Lana.
At SBPD D/C Skibins served as a Sergeant in the former Neighborhood Enforcement Service Team, Lieutenant in the former Street Crimes unit, and Captain of the Strategic Focus/Strategic Intelligence Unit.  He was also a member of the SBPD-SWAT team from 2003-2016 and retired his SWAT career as the Assistant Commander. D/C Skibins is also a graduate of the Northwestern University Center for Public Safety-School of Staff and Command, and a graduate of the Police Executive Leadership Academy.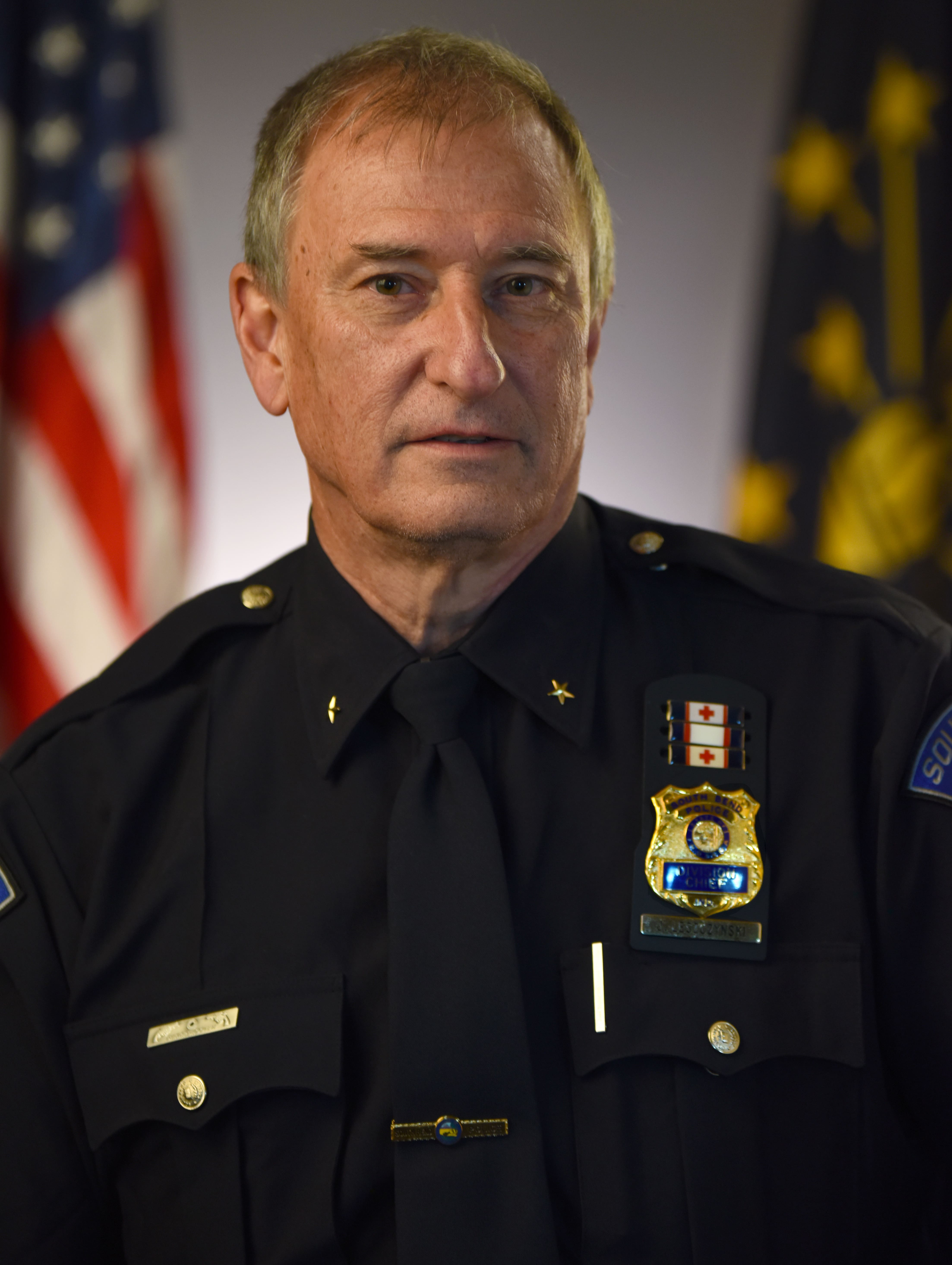 Patrol Division Chief Joe Leszczynski
A South Bend native and Washington High School graduate, Patrol Division Chief Leszczynski was sworn in to serve the South Bend Police Department in March of 1989. He was promoted to the rank of Sergeant in 2006, Lieutenant in 2016 and Captain in 2018, overseeing 2nd Detail (Afternoon) Patrol. Leszczynski has spent the entirety of his SBPD career in the uniform division, serving as a patrol officer, DARE officer, Field Training Officer, Emergency Vehicle Operations Course (EVOC) Instructor and overseeing the Pursuit Review Committee.
Leszczynski says one of his favorite parts about working for SBPD is helping with traffic on Notre Dame home game weekends — especially meeting new people at the intersection of Notre Dame Avenue and Angela Boulevard, which he has maintained for the past 32 years.
Logistics Division Chief Timothy Lancaster
Division Chief Lancaster joined the SBPD in 1997.  Division Chief Lancaster has served in several different positions with the SBPD including as a patrol officer on the 2nd and 3rd details, a School Resource Officer for the South Bend Community School Corporation,  an Investigator for the St. Joseph County Special Victim's Until, a Sergeant on 2nd detail in the patrol division, a Lieutenant on the 3rd detail in the patrol division, and a Captain on 2nd detail in the patrol division.  Division Chief Lancaster currently serves as the Division Chief in the Support Division which encompasses the Detective Bureau and the Logistics Bureau.  In his current assignment Division Chief manages the SBPD budget, the Records Division, payroll, purchasing, and criminal investigations.  Division Chief Lancaster is a graduate of the Police Executive Leadership Academy.