About SBPD

Special Initiatives
Special Initiatives
The South Bend Group Violence Intervention
The South Bend Group Violence Intervention (SBGVI) unites community leaders around a common goal: to stop gun violence and keep South Bend's highest risk citizens alive and out of prison. SBGVI is a partnership among 30 community leaders from law enforcement, government, education, civil service, health-care and faith-based agencies. Based on a proven model developed by David M. Kennedy, director of the National Network for Safe Communities  at John Jay College of Criminal Justice, SBGVI advocates direct, sustained engagement with the street groups that cause the majority of South Bend's gun violence. The strategy empowers community members to set clear moral standards against violence in their communities and reclaim a voice in the future of the community. It coordinates the efforts of local, state and federal law enforcement to focus crime prevention efforts on the groups most associated with gun violence. SBGVI also draws on the expertise of social service providers to offer group members a path away from violence.
Why use the term "Group" instead of "Gang"?
The purpose of SBGVI is to reduce violence and to stop the killing.  Research finds that most homicides and shootings are committed by members of highly active street groups—these groups are gangs, drug crews, and the like. All gangs are groups, but not all groups are gangs.
According to the National Network for Safe Communities, an exclusive focus on gangs, which is often understood to include notions like organization and leadership, will exclude a significant number of groups that contribute heavily to serious violence, such as loosely affiliated neighborhood drug crews. Many high-rate offenders associate in loosely affiliated groups, and these groups drive serious violence. Such groups may or may not have a name, common symbols, signs or tags, an identifiable hierarchy, or other common identifiers.
Why Group Violence Intervention?
South Bend is committed to using a proven approach to addressing group-related violence. This approach has been implemented in dozens of cities across the U.S. and has demonstrated that violence can be dramatically reduced when community members and law enforcement join together to engage directly with groups committing violence and clearly communicate:
A credible, moral message against violence
A credible law enforcement message about the consequences of further violence
A genuine offer of help for those who want it
According to the National Network of Safe Communities, the key moment in the strategy is a "call-in"—a face-to-face meeting between SBGVI partners and members of groups.  At call-ins, the partners deliver key messages to group members:
The violence is wrong and has to stop
The community needs them alive, out of prison, and with their loved ones
Help is available to all who accept it
Any future violence will be met with clear, predictable, and certain consequences
Group Violence Intervention: An Implementation Guide
Access a free, comprehensive guide to the National Network's Group Violence Intervention strategy here. This guide covers all relevant steps to the strategy from initial planning and problem analysis to enforcement actions and call-in implementation. It considers issues of maintenance, integrity, sustainability, and accountability to offer interested parties a step-by-step guide to successfully implementing GVI in any jurisdiction.
SBGVI is administered by working group members, a stable core of representatives from law enforcement, the community, and social services, who meet regularly and coordinate the actions of their respective operational teams.
Sgt. Kyle Dombrowski - Spokesperson, South Bend Police Department
Pete Buttigieg - Mayor, City of South Bend
Jay Caponigro - Director, Community Engagement, University of Notre Dame
Debie Coble - President & CEO, Goodwill Industries of Michiana, Inc.
Lynn Coleman - Community Trauma Liaison, Memorial Hospital
Ken Cotter - Prosecutor, 60th Judicial Circuit, St. Joseph County Prosecutor's Office
Arden Floran - Vice President, Workforce Development, Goodwill Industries of Michiana, Inc.
Jim Fox - Judge, St. Joseph County Juvenile Justice Center
Danielle Fulmer - Director of Businesss Analytics, City of South Bend
Andre Gammage - Magistrate Judge, St. Joseph County Circuit Court
Kenneth Hays - Supervisory Assistant U.S. Attorney, U.S. Attorney's Office
Isaac Hunt - Group Violence Intervention Supervisor, Goodwill Industries of Michiana, Inc.
Clifford Johnson - First Assistant U.S. Attorney, U.S. Attorney's Office
Thomas L. Kirsch II - U.S. District Attorney, U.S. Attorney's Office
Rose Meissner - President, Community Foundation of St. Joseph County
Eddie Miller - Pastor, Faith Apostolic Temple
Pete Morgan - Director of Strategic Initiatives, Community Foundation of St. Joseph County
Gladys Muhammad - Associate Director, South Bend Heritage FoundaSgt. 
Cynthia Nelson - Executive Director, St. Joseph County Juvenile Justice Center
Laura O'Sullivan - Chief of Staff, City of South Bend
Scott Ruszkowski - Chief of Police, South Bend Police Department
Jeff Rynearson - Division Chief, South Bend Police Department
Benito Salazar - Community Activist
Dan Skibins - Captain, Strategic Focus Unit, South Bend Police Department
Debra Stanley - Executive Director, Imani Unidad
Karen White - Common Council Member (at large), Associate Vice Chancellor, Indiana University South Bend
---
The Armadillo Project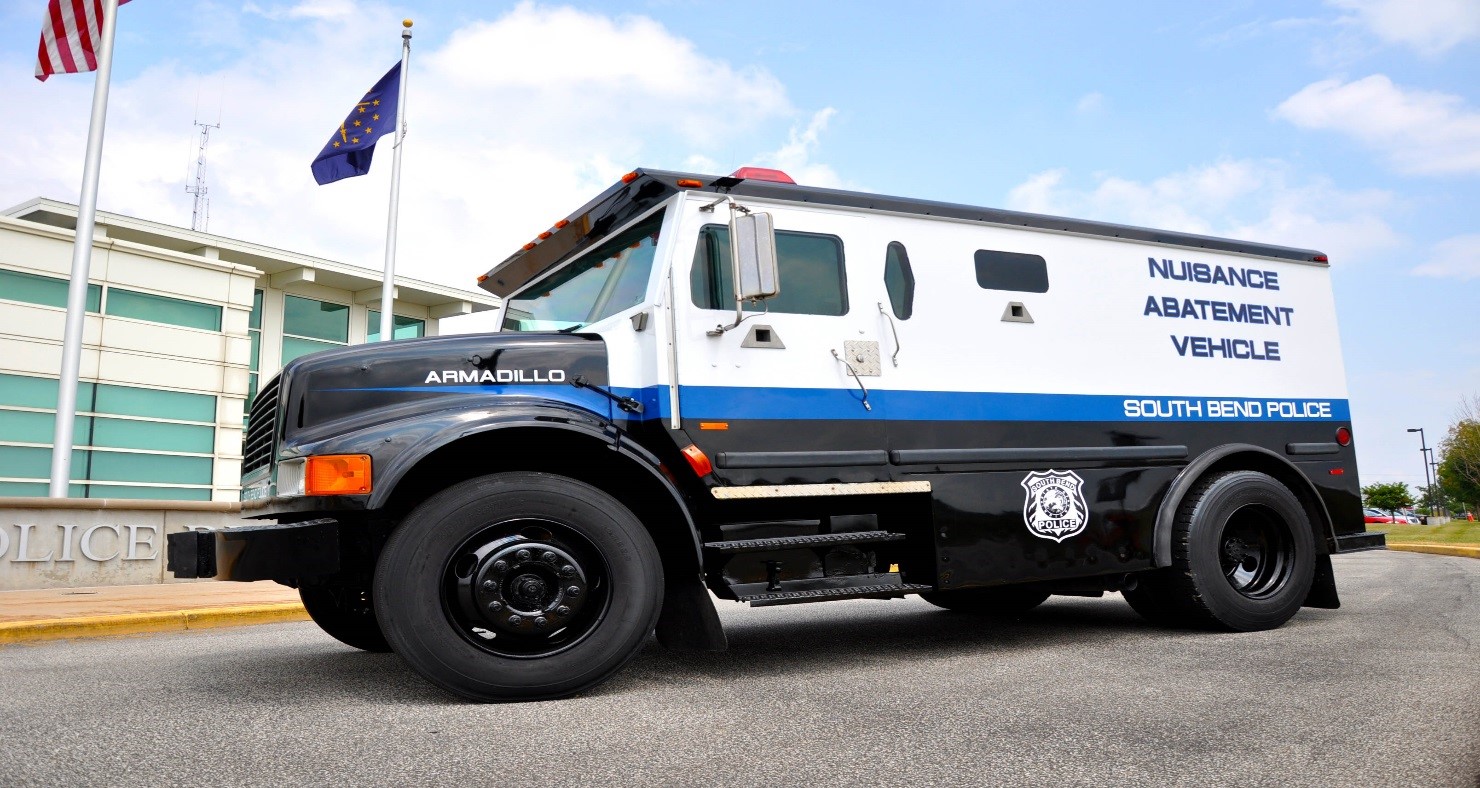 A few years ago, the Neighborhood Resource Corporation (NRC) sponsored a group of South Bend neighborhood residents to attend a Regional Neighborhood Network Conference (RNNC). While at the conference the residents attended a presentation by the Peoria Police Department, on their program to deal with nuisances properties by restoring an old Brinks' armored vehicle that was painted to look like a police car. The armored vehicle was parked in front of nuisance properties to curb the activities and improve the quality of life for the neighboring residents. Their experience was very positive and resulted in crime reduction, restoration of peace, landlord involvement, and public satisfaction. Based on their experience, we decided to implement a similar strategy in South Bend.
It's About the Quality of Life 
The South Bend Police Department has shifted its focus to not only address traditional crime, but to focus on nuisance behaviors that undermine the quality of life in our neighborhoods. Citizens do care about noise, loud music, litter, loitering, disorderly conduct, and anti-social behavior that can be a disruptive force, destroying the sense of peace and safety. We often find the areas that are most plagued by illegal drug activity are the same areas where other nuisance behaviors are most prevalent. In the most affected communities, issues can usually be traced to a select few, known problem households or retail businesses. Identifying those problem properties is often easier than remediating them and many times our response is either slow or covert, leading to public dissatisfaction. The public's frustration over a nuisance household can be exacerbated by a perceived lack of police response.
Intended Purpose
Fully equipped and fortified, South Bend's Armadillo is a virtually indestructible surveillance vehicle designed to discourage and prevent illegal and nuisance activities that impact the quality of life. The main goals for the vehicle are to curb illegal activity and to restore peace and quiet to a troubled neighborhood. In addition to dissuading illegal activity, we see that when problems are quickly addressed with the Armadillo, citizens feel a sense of security and relief.
Preparing the Armadillo for Deployment 
The Armadillo was outfitted with headlight and taillight screens, a locking fuel cap, a padlocked hood, and foam-filled tires. Once the Armadillo was fortified, it had very conspicuous decals placed on all sides in large  block letters that read,  "NUISANCE ABATEMENT VEHICLE   SOUTH BEND POLICE".  Emergency lights were mounted on the roof to make it even more conspicuous. Once the Armadillo was refurbished and fortified, it went to the station to have the digital recorder and camera monitoring system installed, which consist of infrared cameras to provide 360 degree coverage. The camera view is a type that captures any angular approach to the Armadillo but still provides a sharp image of the target house. The digital recorder is mounted inside and has a removable hard drive for downloading or making DVDs. The system also has a multiplex LCD monitor which allows the operator to align the cameras for the optimum view. The cameras serve a dual purpose in that they can both document illegal activities in the area, as well as deter vandalism to the truck itself. 
---
Chronic Problem Properties
The South Bend Police Department has increased its efforts to address and correct issues that arise as a result of chronic problem properties. The goal is to improve the quality of life for all residents of South Bend.  Below is a brief history of the City and SBPD's efforts, resources, and contact information.
About the Ordinance
From April to June of 2013, there were 266 properties for which five or more calls were sent to the police. On June 10, 2013, the South Bend Common Council voted 8-1 to approve a chronic property ordinance to address this problem.
The Chronic Problem Property ordinance went into effect on October 15, 2013. It allows the City to fine property owners for each call above the limits established in the ordinance—5 calls within a 60-day period for a property with 50 or fewer units and 12 calls in a 90-day period for a property with 51 or more units. The fine is $250 for each call above the limit.  Warning letters and remediation programs were put into place to assist owners in adapting to the new legislation and addressing issues at their properties.
Update
The Common Council has recently revisited an important aspect of chronic problem properties—property ownership. On Monday, May 9, 2016, the Common Council approved an ordinance to establish a landlord registry within South Bend. As part the registry, landlords have to provide the City contact information annually, so the City can have an updated database of rental property ownership.
For More Information
View the ordinance
Contact Code Enforcement at (574) 235-9486 or SBPD at (574) 235-9201.