Start a Career With SBPD
Start a Career With SBPD
Current Open Positions
---
Become an Officer
Already read the requirements?
---
The City of South Bend accepts applications for the position of Police Officer Recruit on a rolling basis.
We are looking for the best and brightest recruits to become a member of the fourth largest police department in the state. Please take a few moments to learn more about the rewards and benefits of becoming a South Bend Police Officer. If you have any questions please feel free to contact our Training Division for additional information, at (574) 235-9224.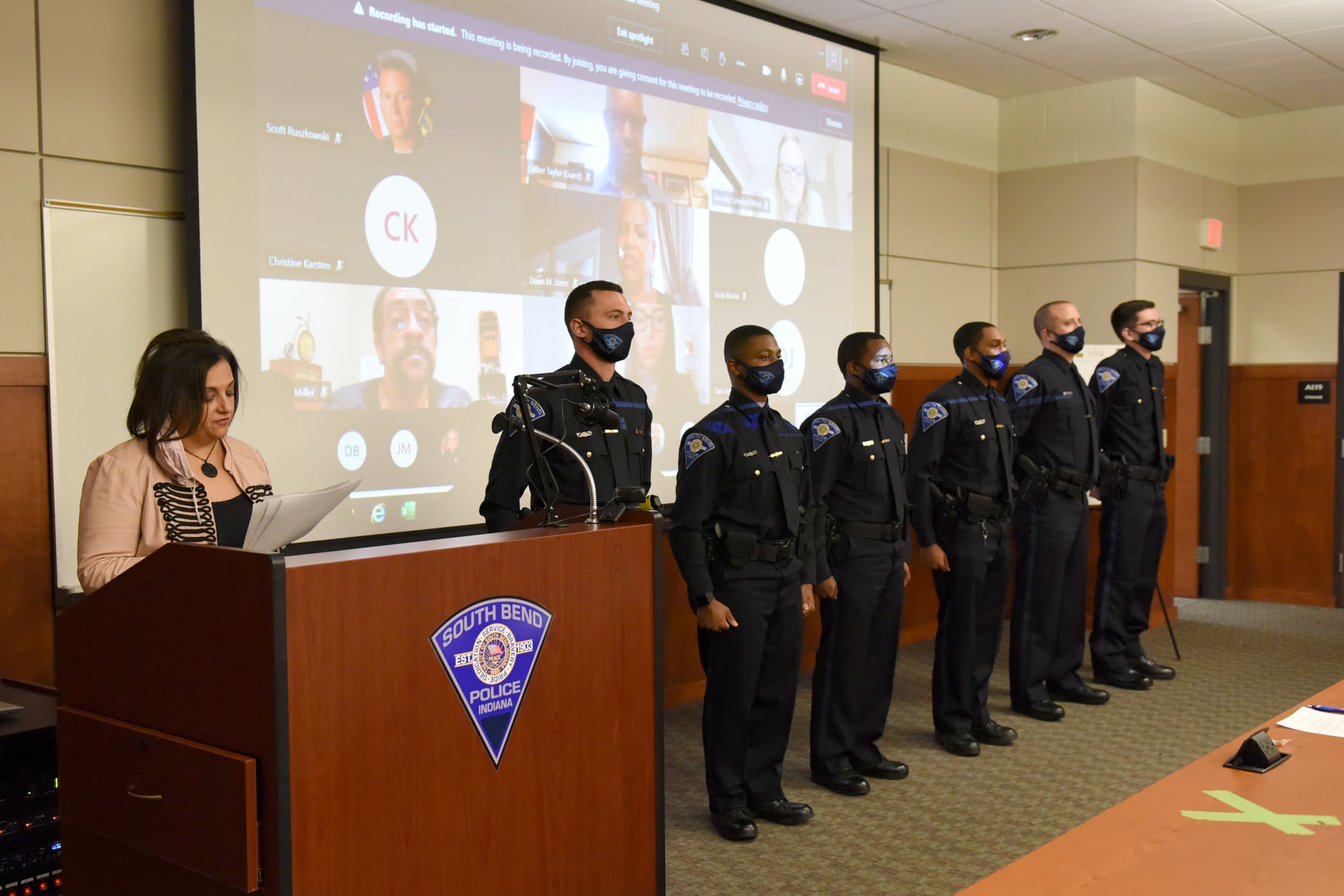 It is the goal of the South Bend Police Department to recruit the most qualified persons, without regard to race, color, religion, sex, national origin or disability, to serve the residents of South Bend as police officers. Hiring requirements are based on job-related criteria, taking into consideration the knowledge, personal attributes, skills, and training required to perform the job tasks, so as to further the principle of equal employment opportunity.
---
Application
The South Bend Police Department accepts employment applications for Police Officer Recruits on a rolling basis.  Applications are available through the following:
Pick up a paper copy from the Police Training Division
Completed applications for sworn officer positions only may be hand delivered or mailed to the following address:
South Bend Police Department
Training Division
701 W. Sample St.
South Bend, IN 46601
Applications for non-sworn positions at South Bend Police Department must be submitted through the City of South Bend's Human Resources Portal.
---
Requirements
United States Citizen
Must be 21-40 years of age at time of application (or up to 40 years of age if retired military with 20 years of service and honorable discharge, in accordance with HB1359)
Have a high school diploma or GED certificate
Must be able to pass a competitive written exam
Have no felony criminal convictions 
Have no conviction of domestic violence or a domestic violence-related offense (either misdemeanor or felony)
Must be of good moral character
Must pass mandatory drug screening
Have no previous use of hallucinogenic drugs (LSD, Mushrooms, Mescaline, Ecstasy, etc.)
Possess a valid driver's license from current state of residence
Military discharge (if applicable) cannot be characterized as "other than honorable", "bad conduct", or "dishonorable"
Must be able to pass a physical agility assessment test
Must submit to in-depth background investigation, truth verification examination, psychological testing, and medical examination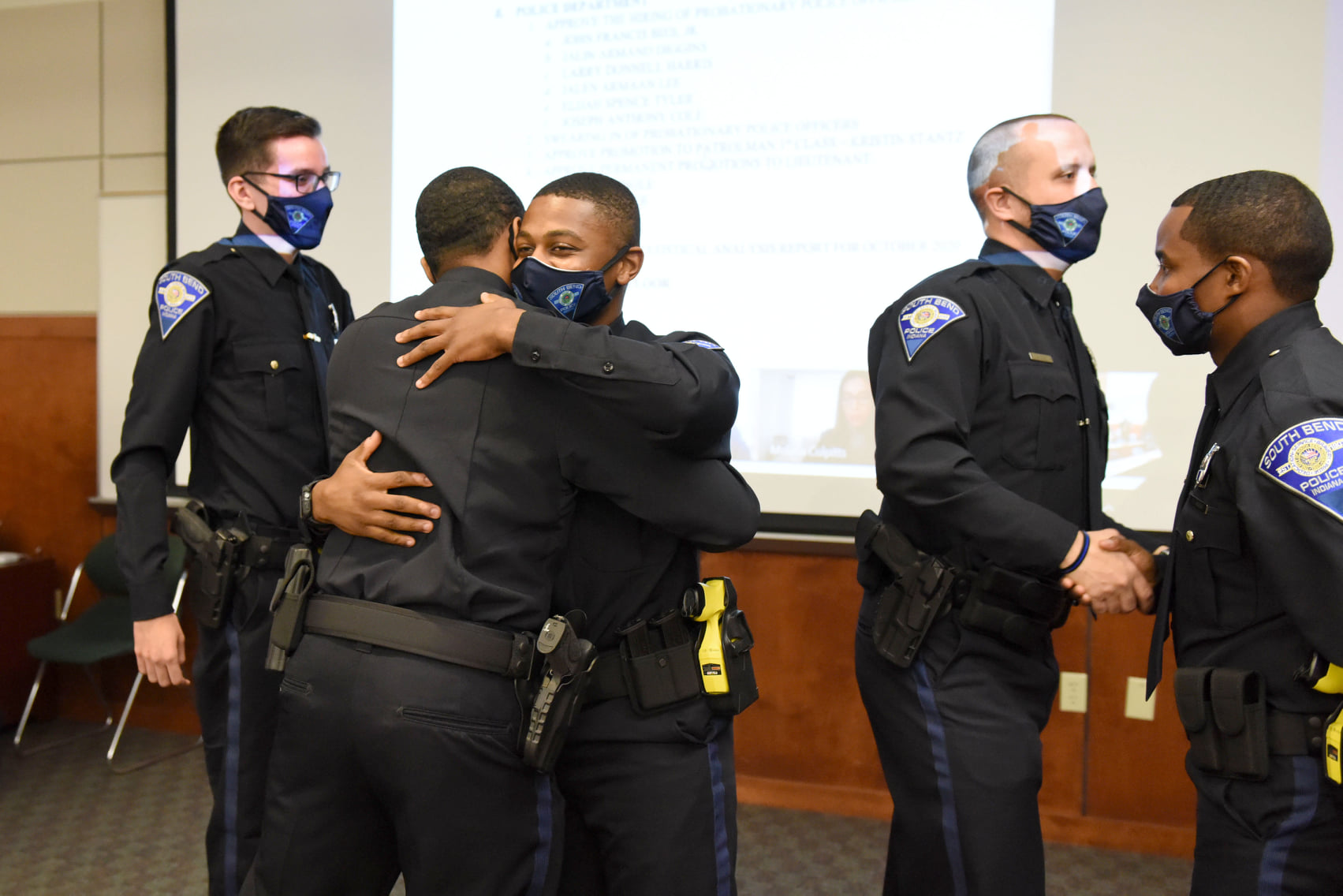 ---
Selection Process
The South Bend Police Department's Applicant Process may consist of, but is not limited to, the following evaluations. These may take up to six months to complete, in the following order:
1. Physical Fitness Assessment Test
Physical fitness standards are based on the Indiana Law Enforcement Academy (ILEA) and the standards are the same for males and females.  Applicants must meet the standard for each exercise to pass the assessment test.  This is a PASS/FAIL test only, with no points assigned for results.
Exercises in order are:
Vertical Jump Test (Standard: 13.5 inches or greater)
Timed Sit Up Test (24 in one minute or less)
300 Meter Run (Complete in 82 seconds or less)
Push Up Test (Complete 21 push ups with no time limit)
1.5 Mile Run (Complete in 18:56 or less)
Pistol Trigger Pull Test (Complete 6 pulls in 10 seconds or less)
If all physical fitness standards are met, the applicant will be eligible to take the written exam.
2. Written Exam 
Created by a professional consulting firm using job-related criteria

Four sections: Arithmetic, Reading Comprehension, Grammar, and Incident Report Writing

Must score 80% or higher to continue on to interview phase
Study guides for the written test will be given out after successful completion of the physical fitness assessment. Applicants will also have the opportunity to attend voluntary study sessions that are offered.  At these study sessions, a practice test will be given, scored, and information on oral interview preparation will be discussed.
3. Personal Interview
This is a one-on-one interview with a member of the Training Division

Responses in this interview may be used for the polygraph examination, and this interview will help you to prepare for the polygraph

The Training Division makes a recommendation as to whether applicants should continue in the process on the basis of this interview
4. Structured Oral Interview
This is a structured interview in front of a board of civilians and sworn officers

Each applicant is asked the same questions and responses are graded
5. Pension Board Interview
This is a structured interview with the South Bend Pension Board

This is the final step in the hiring process
Applicant scores will be totaled to establish an eligibility list in descending order from highest to lowest passing scores.  Applicants will be notified of their final ranking on the eligibility list.
Upon an estimated projection of future vacancies, the department will extend the assessed number of "conditional" job offers to persons on the eligibility list in rank order. At that time, the following evaluations will be completed:
In-depth background investigation
Truth verification examination
Psychological examination and interview with clinical psychologist
Complete medical examination including vision, hearing, and mandatory drug screen
If all evaluations are successfully completed, the applicant will be sworn in as probationary police officer, provided the department has available vacancies.
The eligibility list will be valid for one year from the date of certification. Each year, applicant screening and testing processes for the department are conducted and a new eligibility list is established. Applicants are encouraged to reapply and repeat the testing if they wish to improve their scores and ranking. The Department's hiring needs, and therefore the amount of the eligibility list resulting in hires, changes from year to year based on a number of variables.
For more information about the department or the selection process, contact the Training Division at (574) 235-9224 or ecramer@southbendin.gov
---
Salary and Benefits
2023 PFC Salary: $70,822 + shift Incentives
2024 PFC Salary: $74,009 + shift incentives
2025 PFC Salary: $77,157 + shift incentives
Shift Incentives: 
Shifts- Afternoon: $2,500/yr or Midnight: $3,500/yr
Other Incentives:
Paid basic and lateral on-the-job (FTO) Training

Special Duty incentives (SWAT, FTO, RRT, etc.)

Court Pay during non-working hours

Pay for: Holidays, longevity, on-call, and hazardous duty

Take Home Car program (upon FTO completion)

Uniform allowance: $1,400/yr.

Equipment provided

Health and life Insurance

Military and college incentive programs

Paid vacations, sick leave, and personal days

Sick time buy-back program

One-time recruitment bonus for successful referrals

Annual bonus for officers residing in South Bend City limits

PERF Pension: Retirement after 20 years of service, with the ability to collect pension beginning at age 52
---
Opportunities for positions other than sworn officers are advertised on the City of South Bend's Human Resources Portal.
These applications must be submitted via the link above and should not be submitted directly to the South Bend Police Department.