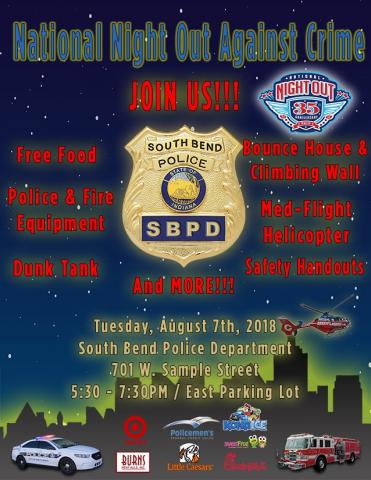 The South Bend Police Department will host its annual National Night Out event from 5:30-7:30 pm on Tuesday, August 7, at the South Bend Police Department, 701 W. Sample Street. The event is free and open to the public.
The National Night Out event will include refreshments, entertainment, games, and giveaways. South Bend Parks and Recreation will have its rock climbing wall and inflatables on site; Little Caesars Pizza, Sweet Frog, Kona Ice and more will provide refreshments; and there will be demonstrations of a Police K-9 apprehending a criminal and a bomb-defusing robot. There will also be more than 40 tables with safety information from police, fire and other agencies.
South Bend residents are also encouraged to participate by turning on their home or porch lights beginning at 9 pm to show support for National Night Out and promote neighborhood safety.
The National Night Out program began in 1984 as a way to promote citizen involvement in crime prevention activities and police-community partnerships.
The program on the first Tuesday of every August involves nearly 38 million people and more than 16,000 communities across the country, and U.S. territories and military bases worldwide.
What: National Night Out
Where: South Bend Police Department, 701 W. Sample
When: August 7th, 5:30 to 7:30 p.m.