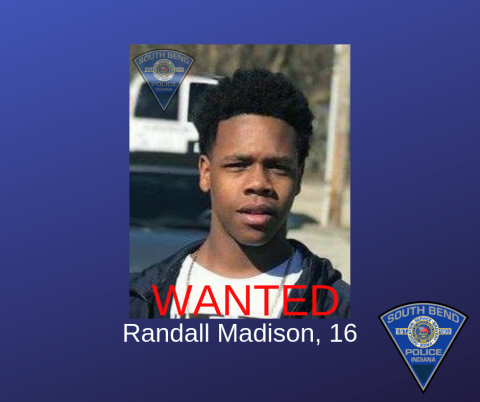 The South Bend Police Department is looking for a teen who has a warrant for his arrest in connection to a shooting that took place on August 3, 2019 in the 1200 block of E. Cedar.
 
Randall Madison, 16, has been charged by the St. Joseph County Prosecutor's Office with Attempted Murder and Aggravated Battery.  Madison is presumed innocent until and unless proven guilty.
 
On August 3 around 7:26pm, South Bend Police Officers responded to the 1200 block of E. Cedar on reports of shots fired. When officers arrived, they found a 17 year old male with a life threatening wound. He was immediately transported to the hospital by medics. Doctors report the victim is expected to recover.
 
Madison is considered armed and dangerous. If anyone has information on his whereabouts, they should call the South Bend Police Department at 574-235-9201 or Crime Stoppers at 574-288-STOP.